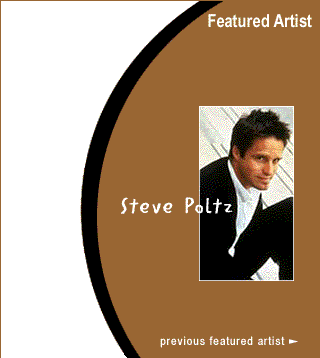 Steve Poltz (from

www.jeweljk.com featured artist April, 1999)

Clearly, Steve Poltz is not the type to shy away from a good challenge. Why else would the singer/songwriter, who has charmed audiences across the United States for more than a decade as a solo artist and as a member of the Rugburns, carry the torch for the old-fashioned love song on his solo debut, One Left Shoe? In an information-overloaded musical universe that's all irony and angst, Poltz still believes love makes the world go ¡round. How uncool is that?"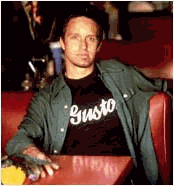 Poltz's co-write with Jewel, "You Were Meant For Me," is one of the biggest singles in recent history. In fact, by the end of 1997, it had been on Billboard's "Hot 100" chart for 59 weeks and counting, the longest any single has remained on the chart, ever. Poltz, who was voted 1997 San Diego Artist of the Year, is the one who got Jewel the gig at Innerchange Coffeehouse, where she would hone her chops and later get discovered and signed. What started as a friendship, soon developed into a great songwriting partnership that birthed many songs, two of which appear on Jewel's multiplatinum Pieces Of You, and several of which appear on One Left Shoe. (And, oh yes, that is Poltz playing "the guy" in the "You Were Meant For Me" video.)


But does all this earn him the right to be so darn optimistic?
In a lot of ways, I'm a lover," he laughs. "I'm not afraid to tell anyone that. I love love." This is quite apparent on his Steven Soles-produced LP, which is filled with folksy, heart-on-the-sleeves tunes naked with emotion, like "Everything About You," "Broken Hearts And Painted Nails," and "Leavin' Again."
In a way, Poltz, a disciple of earnest, confessional writers like Jackson Browne and Rickie Lee Jones, relishes the fact that the love song is somewhat passe. It's par for the course in an unorthodox life in which Poltz has consistently defied conventional wisdom.
The son of an air-conditioning salesman, Poltz was born in Halifax, Nova Scotia; his family moved to such air-conditioned hotspots as Pasadena and Palm Springs before he settled in San Diego to attend college at the University of San Diego. Although Poltz studied classical guitar and was an altar boy growing up, music was initially just a hobby. Instead, Poltz says he did what all political science majors do when they graduate: "I got a job selling plumbing supplies."


Even as a salesman, Poltz moonlighted as a musician at restaurants. While his day job helped feed his passion for baseball (his job included schmoozing contractors at Padres' games), and although the money was good, selling pipe nipples was ultimately a soul-sapping experience. "One day I just said, 'this is it, I'm going to Europe.'" It was busking around the Continent -- from Morocco to Barcelona to Paris, Portugal and Amsterdam -- that ultimately gave him the confidence to pursue his musical muse in earnest. "When I first started playing on the street, I was playing other people's songs," Poltz remembers. "Then I got really into playing originals. I thought, ¡I wonder if I can keep their attention. By the time I got to the Czech Republic, I had become a busking snob -- I saw others and I thought, they're doing covers; that's not cool.'"
Upon returning to San Diego, Poltz put the Rugburns together and toured the country several times, establishing himself as part of the eclectic San Diego scene from which the Beat Farmers, Rocket From the Crypt, and Jewel emerged. However, those who've experienced the energetic mayhem of the Rugburns might be surprised at the introspection of One Left Shoe, but Poltz admits he's as big a fan of Bob Dylan as he is the Replacements. "He's it," Poltz says of Dylan. "We're all just nothing next to him. And he
makes no apologies about his sensitive side."
"I'm not scared of anything I've done," Poltz explains. "In fact, I embrace it; I stick it in people's faces. I like to sweat on stage and feel really nervous like I'm dying and bombing. It's a cool challenge to weather it."


The challenge on One Left Shoe, recorded in 15 days at Hollywood's legendary Ocean Way studios, was not letting his cast of all-star musicians get too slick. Poltz chose Soles, a veteran of Dylan's Rolling Thunder Revue, for his warm production work with Victoria Williams and Peter Case, and Soles brought in an arsenal of legends: Van Dyke Parks, Benmont Tench (The Heartbreakers), Jim Keltner, the Mighty Mighty Bosstones' horn section, Jewel, Jerry Scheff (Elvis Presley and Costello), Leland Sklar (James Taylor, Jackson Browne) and Dean Parks (Steely Dan, Lyle Lovett). Finally, Soles enlisted arranger Jimmy Haskell for his work on Bridge Over Troubled Water and "Ode To Billy Joe," and engineer Larry Hirsch, for his work with Elvis Costello, Los Lobos, Richard Thompson, Joni Michell, Ry Cooder, T-Bone Burnett and John Hiatt.
Luckily, the musicians and Poltz (who recorded all of their parts live) shared an organic approach to laying down the tracks. "They would listen to it twice, then they would let magic happen in the studio," Poltz says. "It was like riding in a Cadillac."
Even more spontaneous magic occurred when legendary rock photographer Henry Diltz showed-up at the studio. He loved the music so much that he offered his, and his equally legendary partner Gary Burden's services to design the album artwork. Poltz, knowing what covers Diltz and Burden had done in the past (Morrison Hotel, Deja Vu, Eagles albums, Neil Young albums, Joni Mitchell's Blue), was shocked and excited, and accepted the offer on the spot.
Although much of One Left Shoe is quiet and contemplative, devoted to love's power and pain, there's still plenty of the quirkiness Poltz has become known for with the Rugburns. On "Silver Lining," Poltz gives a shout-out to ex- baseball hero John Kruk; the swingin' "Salvation Song" is cheekily tophat and tails; in "Kicking Distance," Poltz, with wry Dylan-esque phrasing, equates his romantic plight to Brian Jones, left asleep in the pool; and the Little Feat-ish "Beautiful Day," and doo-woppy "Impala" jump playfully with their Bosstone-horn embellishments.
"In this day and age, everybody's become real mean, there's a meanness in the world," explains Poltz. Perhaps then, what the world needs now is love, sweet love. Perhaps then, what the world needs now is Steve Poltz.
Steve Poltz album discography plus recordings that he has contributed to in a significant way, 1989 to present:
The Rugburns- "Polyester Angst" (Indie Cassette Release in 1989)

The Rugburns-"Yo Baby Dolls!! Chill Your Minds" (Indie Cassette Release in 1990)

The Rugburns- "Lick Her Shoes" (Indie Cassette Release in 1991)

The Rugburns- "The Real World" (Indie Cassette Release in 1992)

Joy Eden Harrison- "Rodeo Santa" on Tierra Santa Compilation CD Christmas Theme CD on Digital Dexterity CD 1993 (Steve co-wrote "Rodeo Santa" with Joy)

The Rugburns- "Staring At The Sun Volume 3" Compilation (Released on Blind Spot CD 1994) ("I Love You" non-LP Rugburns track)

The Rugburns- "Morning Wood" (Released on Bizarre/Planet CD 1994)

Jewel- "Pieces Of You" (Released on Atlantic CD 1995) (Steve guesting on guitar & songwriting)

The Rugburns- "Mommy I'm Sorry" EP (Released on Bizarre/Planet CD 1995)

The Rugburns- "Taking The World By Donkey" (Released on Priority CD 1995) (Jewel on "Old Lover's House")

Gregory Page "The Romantic Adventures of Harry" (Released on Bizarre/Planet CD 1996-Steve guesting on guitar/vocals)

Lisa Sanders- "Isn't Life Fine" (Released on Cargo CD 1997- Steve guesting on guitar & songwriting)

Steve Poltz "Future Folklore" Volume 2 (Indie Cassette Release includes Steve's Hot Dog Fest set 1997)

Steve Poltz "One Left Shoe" (Released on Mercury CD 1998) (Jewel vocals & songwriting on a few tracks)

Steve Poltz "Conversations over a Cerveza" (Promo CD on Mercury Records 1998) (Includes Steve's version of "You Were Meant For Me)

Steve Poltz "Jingle Ball 98" Star 100.7 FM Various Artists CD ("Make A Wish Foundation" benefit CD 1999) (5 live songs by Steve included)

Steve Poltz "Answering Machine" CD (Released on Scam-O-rama Records1999)

Cindy Lee Berryhill "Living Room 16" Griffith Park Records CD 1999 (Steve co-wrote "This Way Up" with CLB)